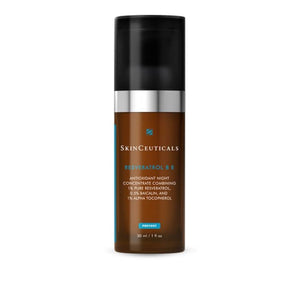 A concentrated night treatment with pure antioxidant-rich Resveratrol to reveal visible radiance and firmness

Resveratrol B E is the first night treatment that combines a maximized concentration of 1% pure, stable resveratrol, synergistically enhanced with 0.5% baicalin and 1% pure vitamin E (alpha tocopherol) for optimized antioxidant antiaging benefits. This patented antioxidant neutralizes free radicals, supports skin's natural antioxidant defenses, and reveals visible radiance and firmness.
- Boosts skin's own antioxidant defense system to help repair and prevent damage 
- Enhances skin's radiance and elasticity 
- Ideal for most skin types including mature skin and retinoid users
The texture of this product is like honey but not sticky. Its very soothing going on at night.